8 tags
Plagiarism: The Unpunished Form of Theft in the... →
6 tags
Diario de Filipinas: Aguinaldo - de Rivera ink... →
diariodefilipinas: Manila, Philippines (December 14, 1897) - And peace has been restored at last. Filipino revolutionary leader Emilio Aguinaldo signed a peace agreement with Governor-General Fernando Primo de Rivera on Friday at Biak-na-Bato, San Miguel de Mayumo, Bulacan. Under the agreement, the Filipino… The Diario is back! And it is reporting on the peace agreement signed...
8 tags
8 tags
Our Constitution provides genuine Muslim autonomy... →
ellobofilipino: By Raïssa Robles The Constitution has long been used as a reason for not granting Muslims widespread powers. During the administration of Corazon Aquino and Fidel Ramos, government peace negotiators told Muslim rebels that the charter would have to be amended for their wishes to be granted. And then they would add that it was next to impossible to amend it. I used to think the...
6 tags
Silence! You're being watched (On Cybercrime...
Precarious consequences emerge as the pernicious new law, Cybercrime Prevention Act of 2012 takes place in a country where freedom of expression (including the rights contained within it) is treated with little respect and almost always with political violence (one only has to read and reflect on our history and the fate of our brave journalists, peasant organizers and activists). In the face of...
Silence! You're being watched. (On Cybercrime... →
4 tags
The Philippines Passes a Cybercrime Prevention Act... →
ellobofilipino: The dark days of SOPA and PIPA are behind the US, at least temporarily as copyright tycoons reground and restrategize, attempting to come up with measures that don't cause the entire internet to shut down in protest. But one country has already moved ahead with similar legislation. The government of the Philippines has passed the Cybercrime Prevention Act, which on the surface,...
6 tags
Martial Law statistics ba kamo?
ellobofilipino: Click through for the Spot.ph article. Thanks for the link @skidoodle!
7 tags
6 tags
6 tags
6 tags
6 tags
US journalist in the Spanish-American war cites... →
ellobofilipino: Francis D. Millet came with the US colonizers in 1898 as a journalist embedded in the American army and wrote about what he saw in the strange country seemingly with the air of white-man superiority typical of the era. Fourteen years later, he would be among the passengers riding first-class who drowned in the sinking of the RMS Titanic that killed 1,500 people. A visual...
7 tags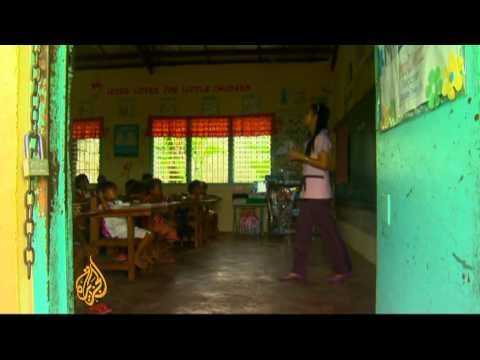 5 tags
"Is it always like this? That we Filipinos are the last to realize that being a..."
– Tony Meloto, founder of Gawad Kalinga
6 tags
Speaking in tongues | The Manila Bulletin... →
This school year is historic for Philippine education as the new K-to-12 curriculum rolls out in public schools. Along with this new reform which adds two years in basic education, the use of an innovative approach to learning ­­— the Mother Tongue-based Multilingual Education (MTBMLE) as a medium of instruction (MOI) for all subjects and as a subject area, has also kicked off. The MTBMLE has...
9 tags
"The Agta are undergoing increasingly severe ecological stress, and may be on the..."
– Thomas N. Headland, Agta Negritos of the Philippines (via ellobofilipino)
5 tags
11 tags
Better conservation in Pakistan and the... →
The World Heritage Committee on Tuesday morning recognized the success of two countries, Pakistan and the Philippines, in improving the conservation of sites that had been inscribed on the List of World Heritage in Danger: Fort and Shalamar Gardens in Lahore (Pakistan) and the Rice Terraces of the Philippine Cordilleras (Philippines). Successful measures have been taken to remove the threat to...
6 tags
Watch
filipindigenous: Philippines, General Debate - 5th Plenary Meeting, Rio+20 Speech delivered by Arsenio Balisacan, Philippine Head of Delegation at the Rio+20 Conference in Brazil.  Better take this with a grain of salt. ~unpocoderojo
5 tags
"This is a truly sad state of affairs. Our museums remain among the most..."
– Strangers to our heritage. Editorial, The Philippine Daily Inquirer. June 22, 2012
6 tags
"Such arrogance to speak of owning the land. How can you own that which will..."
– Macliing Dulag, slain Kalinga elder and leader | link (via filipindigenous)
5 tags
"Real change can only be effected if President Nonoy Aquino comes out with a..."
– According to Kakay Tolentino, Secretary General of the KATRIBU Partylist | More at Philippines: New Mining Policy, More Of The Same - KATRIBU Partylist - Indigenous Peoples Issues and Resources
5 tags
Farmers And Fishers of Leyte Cry Freedom from...
Due to threat to food sufficiency and security, villagers from MacArthur town in the province of Leyte urged the national government to act on the continuous conversion of rice fields to mining areas. 'Since 2010, day and night, silence has become alien to our ears as loud machines continuously extract magnetite from a once rice producing irrigated lands,' a farmer from Pongon village said, who...
4 tags
6 tags
4 tags
8 tags
Mamanwas want mining firm out of Surigao →
CAGDIANAO, Claver, Surigao del Norte (MindaNews/11 May) – Mamanwas vowed to continue barricading the mining site of Shen Zhou Mining Group Corporation here until the company shuts down and leaves port. Vilma Coter, a Mamanwa representative told MindaNews on the same day that they won't budge despite the reported payment of royalty fees on Thursday amounting to P11 million. In an interview...
4 tags
4 tags
8 tags
Amidst Militarization Human Rights Violation -... →
Progressive indigenous partylist, KATRIBU together with KAHUGPONGAN SA LUMADNONG ORGANISASYON – Caraga and Kalumbay and Kalipunan ng mga Katutubong Mamamayan ng Pilipinas(KAMP) held a picket protest at the National Commission of Indigenous People (NCIP) to call for immediate action against militarization and the influx of destructive mining in CARAGA and northern Mindanao region. According to...
6 tags
5 tags
6 tags
3 tags
World War II in the Philippines →
ellobofilipino: The interactive web project World War II in the Philippines seeks to provide the structure by which we unify the people's stories, in search of a history we can truly call our own. With this, we can finally see the intersections of the past and of what is before is now. We only make familiar what should have been familiar to us in the first place. Click here for the interactive...
7 tags
Surrender →
DISCUSSING SURRENDER TERMS with Colonel Nakayama. Facing forward, left to right, Col. Everett C. Williams, Maj. Gen. Edward P. King, Jr., Maj. Wade Cothran, and Maj. Achille C. Tisdelle. It was about 0900 when King, in his last clean uniform, went forward to meet General Nagano. He felt, he said later, like General Lee who on the same day seventy-seven years earlier, just before his meeting...
6 tags
Unemployment among university graduates in... →
ellobofilipino: Evidence indicates that having a higher education continues to be a distinct advantage in securing employment. Across Southeast Asia, unemployment among graduates is lower than for nongraduates (Sakellariou 2010). Nonetheless, unemployment among university graduates is on the rise (Postiglione 2011, World Bank 2011). Within that general trend is considerable variation among...
7 tags
Mamanwas flee Surigao Norte village as mil op... →
SAN ISIDRO, Gigaquit, Surigao del Norte (MindaNews/26 March) - The shooting last Friday of a Mamanwa in Barangay Camam-onan allegedly by soldiers belonging to the 30th Infantry Battalion has forced other tribal villagers to evacuate. Saying they fear they might become the next victims, the Mamanwas from the communities of Pagbangayan, Katikuyan, Bongogon and Kalatinga numbering 66 families or 259...
4 tags
"The lessons we learned from the battle of Manila must be kept alive, if only to..."
– Historian Ricardo Jose on the Liberation of Manila in 1945, Bloody liberation of Manila during WWII recalled, Philippine Daily Inquirer (via ellobofilipino)
4 tags
3 tags
World War II in the Philippines →
ellobofilipino: by Alfonso J. Aluit How did World War II affect the Filipinos, and how have the effects of war influenced Philippine life and civilization in thereafter? The occupation of the Philippines by Japanese forces in World War II led to at least two conditions that would have a permanent effect on the Filipino people. First, the occupation of the national territory by unfriendly...
4 tags
5 tags
The internees reacted in a variety of ways to the...
Fr. George J. Williams, S.J., had celebrated an early morning mass that morning. After mass, at 0700, he and his barracks mates lined up for the daily roll call. As he was moving to the lineup area on "shaky legs," he turned and saw some planes coming across the lake from the north. He paid little attention because "planes had been a common sight in recent days. Only the previous afternoon the...
5 tags
5 tags
Spanish troops take towns in Cavite and Batangas
diariodefilipinas: Spanish battery pounds Filipino positions in Cavite Province (Photo by Arnaldo Dumindin) Cavite, Philippines - (February 15, 1897) Governor-General Camilo de Polavieja has opened up his offensive against the revolutionary army of Emilio Aguinaldo in Cavite with an assault on the rebel leader's province. This comes after months of preparation and after an amnesty offer made...
7 tags
Hospitality and Friendship (a Mangyan Poem)
creativityncourage: Anong aypod upadan Sarin ka pagmangginan My dear friend, be welcome here! Where, perchance, did you come from? Mamaybay aw hunasan Manguanay aw sa kagnan No mangunay sa kagnan Pagpamatara duyan Sa kan aypod upadan Una yi si hintunan Pasaluyon way aban From the seashore ebbing low, from the bubbling water springs? If from the water source up, let us talk for a...
6 tags
6 tags
"The Japanese considered all Filipinos, including women and children, as..."
– Appendix C, Review of the Record of Trial by a Military Commission of Tomoyuki Yamashita, General, Imperial Japanese Army, The Case of General Yamashita: A Memorandum by Courtney Whitney  (via ellobofilipino)
5 tags